The hazards of urban living
A few tips and tricks for entertaining the whole family at Christmas, even if you live in an urban dwelling where space is limited.
The holidays are fast approaching and this year, against all expectations, you're the one hosting the family at Christmas? The problem is that you live in your brand-new condo and you don't necessarily have the time to transform your modern living environment into an enchanted holiday kingdom. In short, are you wondering how you're going to accommodate your guests at Christmas? We thought of you. Here are a few easy tips to get your condo ready for Christmas Eve.
Breathing room
Our first piece of advice concerns the layout of the space. Make sure you leave space for guests to fully enjoy their moment. We suggest you opt for a condo that is not too cluttered and more pared down. This isn't just advice for your Christmas party, but for your everyday life. When you do business with Prêt à vivre, we make sure you get a space that breathes and that allows you to improve your quality of life. Take advantage of a more practical condo that contributes to your peace of mind by focusing on a refined design. Now that we've decided on the layout of your space, get ready to tackle a central Christmas symbol, the famous Christmas tree!
A Christmas tree in a condo
We won't pretend otherwise; a Christmas tree takes up space. You may not know this, but it turns out there are several Christmas tree derivatives. Yes, there are. You can save a lot of space by making a mural Christmas tree. How do you make your wall tree? There are many options for creating the perfect one  Find out which ones are available to you in terms of size, decorations, garlands, lights, and ornaments.  If you have room, so much the better! You'll be able to spend a Saturday afternoon decorating your tree to your liking.
Of course, if you don't want to create your own tree or just don't have the time, you can get a small-sized tree. You'll benefit by ensuring you save your own time and space in your condo.
At the table
Your table is also an element not to be neglected in planning your evening! First of all, for the tablecloth, choose a Christmas theme. You can put a few decorative elements on the table, such as small pine tree branches, pinecones and holly. It's simple, and your guests will love it!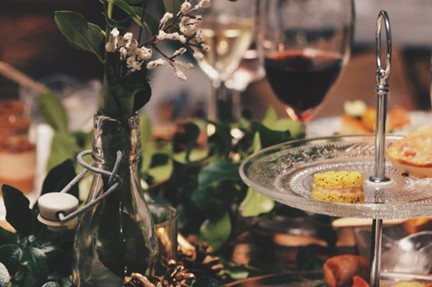 Christmas atmosphere
You want to impress your audience by decorating a little more? Don't hesitate to invest a few dollars in the purchase of classic and timeless items that you can keep for a long time. For example, you can install little white Christmas lights on your balcony or even inside. Tasteful garlands are a guaranteed success! Let your creativity go, it's the holiday season and no one should take themselves too seriously.
Although decoration is central to creating a warm atmosphere, it's not the only element to consider. Music is, of course, a must at Christmas. A selection of Christmas hits will ensure a great evening for everyone! Even better, if you have access to Spotify or Apple Music, create a personalized playlist to make sure you can celebrate to the sound of your family classics. At Prêt à vivre, we have a weakness for the Minuit Chrétien song performed by Bruno Pelletier! To put the finishing touches on your atmosphere, get one of those famous candles that smells like a pine tree, or even peppermint! You can find a ton of them at Bath and Body Works.
Plan B to save Christmas
You have little space and time to decorate? Reserve a room in the common area of your condo tower and order a buffet from the caterer! That way you'll have enough room to entertain your family and hopefully the room will already be decorated for the holidays.
There, that was our advice for your condo Christmas! Let's recap: a clean and uncluttered decor, a tree that doesn't take up too much space, a festive Christmas atmosphere and, in the worst case, a plan B that's not so bad either.
Merry Christmas to you and to the whole family!